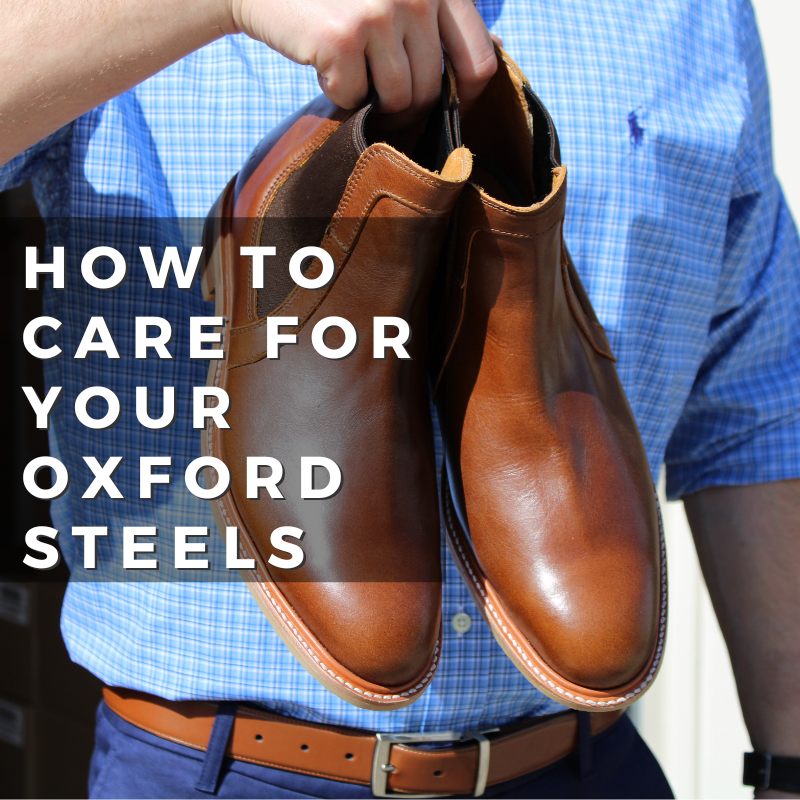 Oxford Steel's Hand-Finished Full-Grain Leather calls for regular care. For professionals who rely on leather shoes in the day-to-day workplace, upkeep and maintenance naturally becomes a priority!  
The key to caring for your leather boils down to one simple word: consistency!   
Caring for your shoes regularly prevents the build-up of dirt, tears, and wear over time. For example, using a shoe tree regularly will help your shoes maintain their shape.   
Professionals working in outdoor environments and inclement weather may find their shoes at higher risk for damage. Be sure to fill your shoes with something to absorb the moisture, such as newspaper or a shoe tree, in order to help them dry without permanent damage.  
If you are wondering how to dry your shoes, letting them air dry is the best option. Exposing your shoes to heat may be damaging. 
It is a good idea to regularly dust your shoes with a dry cloth or brush. This will eliminate the risk of dust and dirt passively collecting on your shoes without realizing it. If you are traveling or not wearing your shoes daily, storing them in a dust bag will also eliminate the risk of excess build up.   
If you find excess dirt or stains on your shoes, a leather cleaner such as saddle soap should do the trick. A gentle cloth with soap and water can also help if your shoes need more intense cleaning. You can also use a leather conditioner on your shoes to help them retain enough moisture to prevent unwanted creasing.  
If you are looking to cover up a scuff or mark on your shoes, a leather polish may be a great solution. Be sure to make sure the polish accurately matches the color of your leather. 
 
Taking care of your Oxford Steels shoes regularly is an investment worth the time. Incorporating even any of the steps above into your shoe cleaning routine will help ensure the longevity and durability of your leather!