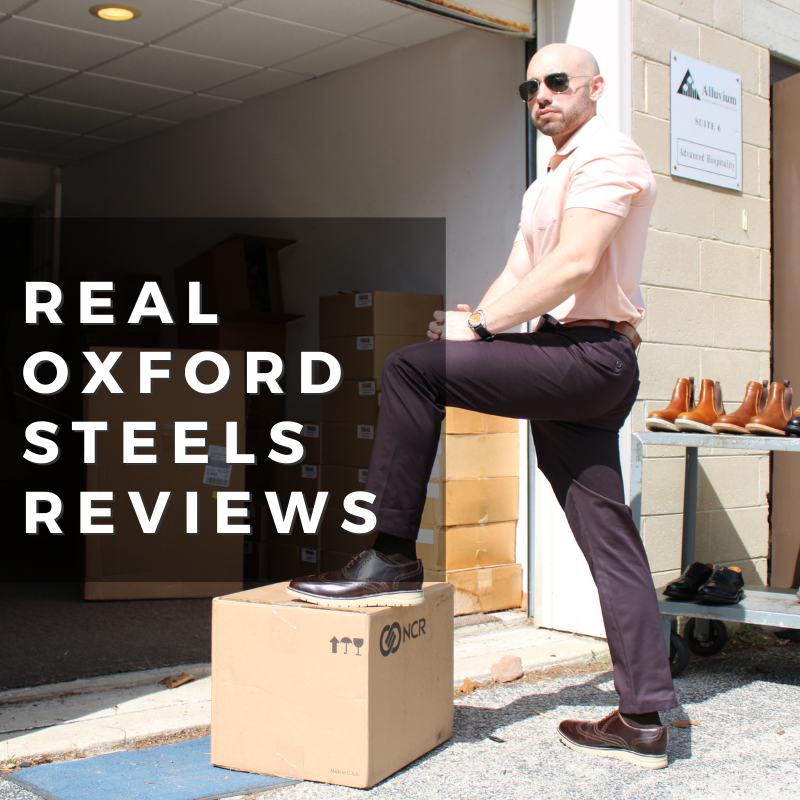 Are you looking to buy a new pair of dress shoes for the summer? The start of the season is finally here, and Oxford Steel is offering a 4th of July sale! Still wondering about how Oxford Steel Shoes will fit into your wardrobe? It is important for us to hear what our customers have to say. Oxford Steel loves getting feedback from our customers to see how our shoes have a positive impact on your day! We want to take the time to read through what our Oxford Steel Shoe verified buyers have to say.  
Our Volta Shoe is a great for a light, durable, and fashionable option. Let's see what some of our customers had to say about the Volta:  
"These are the most comfortable and durable dress steel toe shoes I've ever had" – Thomas D.  
"I have been working in professional roles (engineering and leadership) in manufacturing for 15 years and have always needed steel toes as a daily shoe, very challenging to find a dress shoe style to begin with and even harder to add comfort to that requirement and these shoes meet both. Awesome." – Jeremy S.  
Oxford Steel doesn't want our customers to have to sacrifice safety for style, or vice versa. It's great to hear that our customers are able to meet safety requirements in the workplace while still feeling stylish. Thank you to Thomas & Jeremy for your feedback! 
The Elise Steel Toe Boot is a comfortable, durable option with high versatility in the workplace or for casual wear. Let's read through some thoughts our customers have:  
"I've purchased 5 pairs of steel toe shoes in the past 6 months and I finally found a pair that fits properly, looks amazing and don't hurt my feet! They are worth every penny - my feet felt great for the entire 12 hours I wore them and are not achy at all after taking them off. I bought a black pair and am back to buy them in brown today." – Southbend  
We are so happy to hear that Oxford Steels is able to bring our customers comfortability and style, especially when wearing shoes for long amounts of time. Thanks for your feedback! 
Oxford Steel's CEO Shoe is a great staple in any wardrobe. Let's take a look into our feedback! 
"I purchased these and a pair of boots for my husband. Both fit amazing, he said they are super comfortable and the best part is they aren't clunky or industrial looking so his shoes finally match his work attire. He's safe to work in the lab, still looks fantastic and to top it off, they feel great. Feels like a major win!" – Megan U.  
Oxford Steels makes for a stylish, functional, and durable gift for your loved ones! It is our goal to make sure our customers can feel professional and stylish at the same time. Thank you to Megan for your feedback! 
Oxford Steel has multiple styles to choose from, all bringing you durability, comfort, and professionalism. Keep an eye out for our 4th of July sale this summer. We are looking forward to hearing more thoughts from our customers throughout the season!